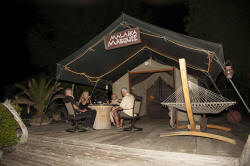 This exciting event begins one hour prior to the Sunset Safari, with a greeting from the Shambala Staff, at which time you will be given bottles of a cold refreshing drink and your bags will be taken to the tent. Then you

will join the Sunset Safari tour to meet the

magnificent residents. Our staff photographer, Bill Dow, will follow along in order to record this wonderful day for you.

After the party, there will be time to relax in the tent before you are served dessert, at which time you will be joined by your gracious hostess, Tippi Hedren* and Shambala director Chris Gallucci.